Bicycling routes in Tuscany - Biking in Tuscany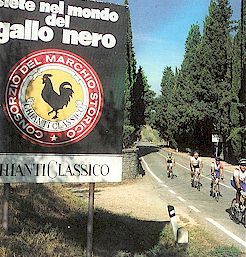 Biking in Tuscany is one of the most enjoyable activities you can engage in here. On weekends, the roads are lined with streams of racing bikes being ridden by extremely fit-looking Italian males so car drivers are very used to cyclists and accidents are rare. For tourists, ordinary touring bikes and also mountain bikes, are a fantastic way to see the countryside and really to engage with it in a way that is less easy when travelling by car.

It's generally agreed that the bicycling possibilities throughout the Chianti region are extremely good - smooth roads, beautiful scenery, challenging climbs, long down hill runs, and historical sites and vineyards on almost every route. Impruneta lies near the centre of the great ride from Siena to Florence, and is in fact an excellent base for circuits literally to all four points of the compass.
e-Bike rental in Chianti

Limousine Travel
, located in Gaiole in Chianti, rents e-bikes.
For a small additional cost, they will bring your e-bike to any location
within reasonable distance of Gaiole. Guided e-bike tours available.
Click here for more about e-bike rentals in Chianti.

The Florence -> Impruneta -> Florence circuit

Km
Height
(0)
0
50
Piazza Beccaria in Florence
Head south towards the river and when you reach it, turn left and then cross the bridge at your right (Ponte San Niccolo'). Take the road on the left without trees (via Orsini) and follow road sign for Grassina.

(1)
8.24
87
Grassina
You are now on SS 222 ("Chiantigiana"). Continue on this road. Exiting from Grassina, there is an easy climb.

(2)
10.14
182
San Martino
It's on the right at the end of the climb and worth a visit.

(3)
14.00
209
Casino
Here there is a short (200m) 10% climb.

(4)
15.74
240
Poggio alla Sala
It's at the end of a short downhill run. Now you must leave SS 222. Turn right onto the road that will take you to Impruneta.

(5)
19.64
275
Impruneta
200 m after the main square (the one with the church) there is a crossroads. Turn right (direction Pozzolatico).

(6)
23.24
291
Monte Oriuolo
This is the highest point on this ride.

(7)
24.14
237
Mezzomonte
This is at the end of the first section of the downhill run. 300m after Mezzomonte, take the road to the right that leads you to San Gersolè.

(8)
25.14
240
San Gersolè
A downhill run begins here. After only 300m, there is a small road on the left. Take that and at the end of the last downhill slope, turn left.

(9)
29.94
75
Cinque Vie
Turn right and then immediately left, in the direction of Florence. Continue straight on until the crossroads with the traffic light.

(10)
32.04
60
Viale Michelangelo
Turn right, and at cross the river Arno at Piazza Ferrucci and return to Piazza Beccaria

(11)
33.14
50
Piazza Beccaria